SMS Solutions
---
TECH RELIABLE provides Bulk SMS solutions worldwide for business promotion and Brand Building. We are connected with all major International Mobile Operators. TECH RELIABLEprovides highest quality of the services in very competitive price with web based user friendly interface.

We adopt very positive approach towards the client requirements. We under stand that some clients would have a requirement for setting up their own SMS infrastructure.
We have set of products which shall enable the SMS Infrastructure for such clients. The SMSC manager can interact with the SMSC of the mobile operator onany protocol, SMPP , CIMD , HTTP.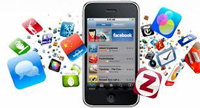 We are supporting multi-level reseller platform with facility of customization of look n feel of the platform with their own logo and company information's. SMS Gateway : SMS Gateway is simplest tool meant for an enterprise to go Mobile. SMSC works on the GSM Modem and connects with the database of the enterprise. The Simple Set of APIs then define the communication parameters and within no time the enterprise goes wireless. Customers can interact on the SMS and retrieve the desired information. Corporate SMS provides you lot of features in many ways:

1. User & Group Maintainance
Corporate SMS provides you facilities of maintaining group and user's information that helps you to send group sms and maintained your company and personal user's information. Company admin can create many groups and can categorize every user into them, and that allow him to send group sms by Group ID.
2. Group SMS
Corporate SMS provides you facilities to send Group SMS in many ways e.g., By Location, By Department, By Designation and By Group ID. You can send sms to all users or selective users at one go by just selecting the type of Group SMS.
3. Instant SMS
Corporate SMS provides you the INSTANT SMS facilities at one go. Just enter the receiver mobile number (if multiple separated by comma (,)) and enter the message.
4. MIS (SMS Log)
Corporate SMS provides you the facilities to generate MIS or give you control to check the outgoing sms log. Company Admin has the facility to check all the outgoing sms log of his company id and Company user can only view by his sending sms log.
5. Location, Department & User Type Maintenance Corporate sms provides you the facility to maintain Location, Department and User Type (Designation) of your company. Using corporate sms, company admin can create new location and can categorize user into them same wise he can also create department and user type (designation). He can also modify and delete any of these from his company account. By modifying or deletion, users will be automatically affected with new changes


Our Latest Projects




[read more+]
ClientTestimonials
"I am really happy with your service, it is exceptional, Web Design Enterprise is just great."

"We just wanted to say that we were very impressed with the customer service, skills and dedication

"Thanks for the fantastic job on our site"
[read more+]